THE STORY OF FLEURIEU ROAST | Q&A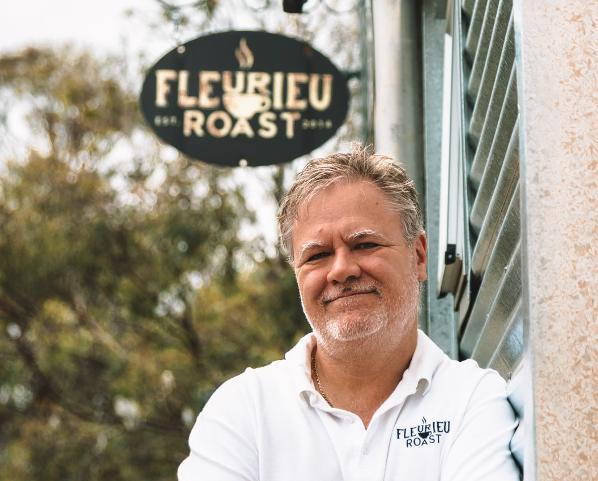 Australian broadcaster, film critic, and journalist Megan Spencer met with the founder of Fleurieu Roast to find out how as he became a successful and award-winning coffee roaster.
Please share with us your name, age, how long you've lived in the area, what your connection is to it?
Ben Tugwell, 48 of McLaren Flat. I was born in Glenelg and have lived in South Australia ever since. Most recently I moved to the wide-open spaces and the appealing landscape of McLaren Flat with my family about ten years ago as an ideal place for my boys to grow up.
Why do you like it here?
It's less hectic, cleaner and more relaxed than living closer to the city. People still have a sense of community here too.
What else can you tell us about yourself that might be of interest and that no-one knows about you?
It seems to be something great amusement when people learn that I used to have a mullet hair style. So, let's just say I'm thankful I grew up before digital footprints were a thing.
How long have you had a love affair with coffee? How and when did it start?
Some 35 years ago my relationship with coffee was only an occasional acquaintance. My parents had an Atomic stovetop espresso machine that would come out of the cupboard for dinner parties. The coffee was always strong and needed several teaspoons of sugar to tame the bitterness.
When I moved out of home, I parted ways with home espresso, and I endured an unexciting but functional relationship with instant coffee for about a decade.
Then one evening in Glenelg, something special happened. It was a family celebration at the Stamford Grand, and although I didn't know it at the time, one drink was going have such a significant effect on my future.
Coffee was served with dessert and I must have been distracted because I took a mouthful without the customary heaped spoonful's of sugar. I paused, and for a moment, I wasn't even sure I was drinking coffee – so smooth, and an underlying creamy chocolate and caramel flavour, well balanced and just perfect!
And that appreciation of good coffee has stuck with me ever since.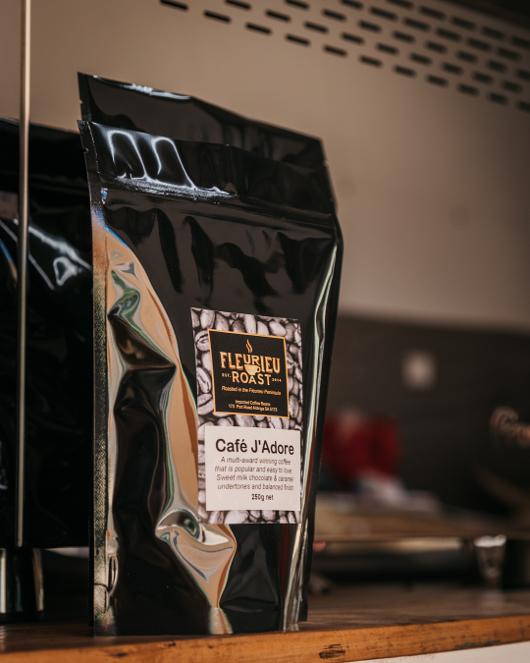 Why did you start this business? Why this industry?
I started roasting small quantities of coffee at home and would often share it with friends. They would often say how much better it was than store-bought beans. So, feeling encouraged, I started roasting as a sideline and enjoyed how much I was able to help people I knew with their coffee. At work I later convinced my employer that my coffee was better than the mainstream coffees and he became my first regular client.
It was a bit of a gamble, but I took a chance to up sized to a second-hand commercial roasting machine in 2014 and not too long after, Fleurieu Roast was registered and trading.
I initially took to roasting because of the technical challenges and the rewards of having access to fresh premium coffee. What unexpectedly came from roasting was the satisfaction in sharing the whole experience with other people.
Why this area – what does it offer you? What does it offer the local community? How is it unique?
Not only do I get to experience and experiment with lots of coffee, I get to put it into practice by helping people get the most out of their coffee too.
I think what's makes Fleurieu Roast different; our success is measured on our customer's success. It's about helping source better coffee and turning it into the perfect drink.
What do you believe your products and services do (or 'business does) that no one else can?
We're the one-stop-shop for quality and support without the fancy office or sales team.
We can take the time to listen and understand a customer's needs and immediately draw upon our roasting capability and professional skillset to help deliver top quality coffee best suited to their circumstances.
Our coffee is selected and roasted to meet expectations of different clients, whether is a new and exotic single origin or a dependable blend that delivers consistently good coffee every time.
What makes you different?
We're not greedy. Fleurieu Roast is founded on pursuing quality while working sustainably. By that, we aspire to remain a small business that is not too big or too busy to help. For us to succeed we want our customers to succeed.
We're realistic. We have positioned ourselves as a practical observer of sustainable practices, developing our own processes to conserve resources and minimise waste.
We're hands-on. We sell directly and therefore personally get to know customers' tastes and interests in coffee. With this knowledge at hand, we source green beans from a reputable supplier who guides us with recommendations to develop high quality coffee. We operate with smaller quantities and make purchasing decisions by combining good advice with the knowledge of customer needs.
We're amongst the best. Our award-winning roasting is also pretty special. Using a traditional barrel roaster, every batch goes through a hands-on process of weighing and blending, roasting to our own specification, inspection and packaging.
And we know stuff. We readily support customers by sharing skills, technical and business expertise that stem from vast experience in hospitality and professional service consulting.
How does it change the lives of your customers and all who encounter it?
Our customers have come to us with many different needs. Some are adventurous and are looking for new experiences, others have been searching that elusive perfect cup. We take people where they want to be by listening and guiding with them with considered advice. We keep a range of beans to cater to different tastes and we also roast to precisely measured profiles to ensure consistency.
For businesses we help ensuring their future with setting up and maintaining coffee that wins compliments and brings a strong loyalty.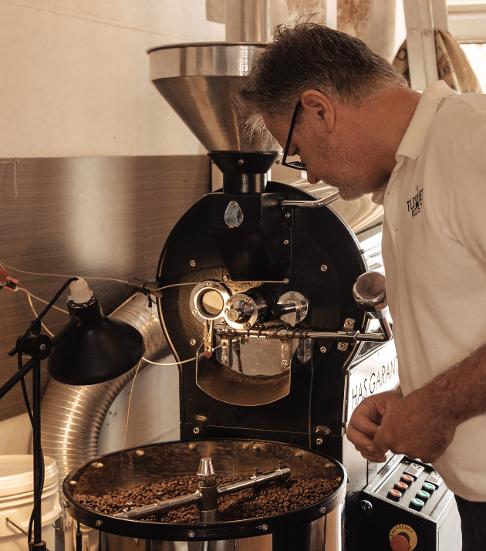 What are you trying to change in the marketplace and world with the work that you do?
We're not really worried about what the rest of the world is doing. But we are on a mission to bring premium coffee to discerning homes, offices and cafes around the Fleurieu.
What are the greatest rewards for you running this business?
There's just a nice balance of routine production work, interacting with people and overcoming technical challenges.
Greatest challenges?
Roasting coffee is highly competitive, so we've had to be careful to build a solid reputation based on what we do well. Breaking into a saturated market has called upon a great deal of persistence, ingenuity, and patience.
To avoid big overheads, almost all the equipment we use is second-hand or homemade which is also a lot more fun and rewarding.
And finally, every client is highly valued. We've worked hard to win them and at the same time we know we're fortunate to have them.
What's the single best piece of advice you've been given when it comes to running your own business?
One of my favourite sayings about running small business is that you have the freedom to choose exactly which 18 hours of the day that you work. And I while I try not to describe what I do it as work, I like the phrase because doing work is rewarding. And by choosing when I get to do things, I can make us of the flow by timing things for when I can get the most impact and enjoyment.
What's the best piece of advice you can give your customers when it comes to making great coffee?
Don't be afraid to experiment, enjoy your coffee and when it comes to coffee, "less is more".
Please finish this sentence: "In 5 years time I hope that Fleurieu Roast will be…"
… known as the brand that brings out the best coffee in the Fleurieu.